In keeping to my attempt at the one game a month challenge, here is "Zombie Contacts", my January submission. The game is free and is ad-supported. Just a bit of zombie destruction fun.
Download Zombie Contacts for your iPhone, iPad or iPod touch here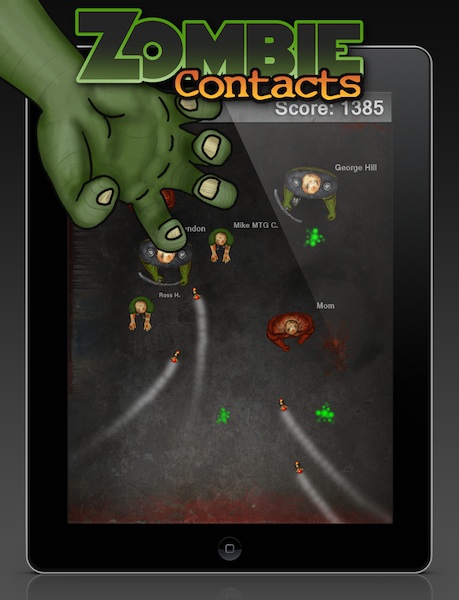 In Zombie Contacts you defend against a horde of zombies generated from address book contact names found on your iPhone / iPod / iPad (or use the built in default set of names if you don't want to use your own address book contacts). It is a simple "defense" game where the zombies come at you from the top, and you launch homing missiles at them. There are three difficulty levels, and the more you kill, the faster they come!
I have spent roughly 48 hours creating this game – that includes all graphics, code, animation and the submitting to Apple part! The graphics are all done using Photoshop and my Wacom bamboo tablet. I drew the individual zombies and manually animated them using transforms in Photoshop. Pretty rudimentary, but it works ok for me and a 13 frame animation 🙂 The graphics are not great, and I didn't aim for them to be – they were simply done as quickly as I could, whilst still keeping them decent looking.
The engine used is cocos2d-iphone 2.1. Other tools I used are my trusty Zwoptex for spritesheets and ParticleCreator off the app store for the simple particle effects.
Here is a quick game play demo:
[youtube=//www.youtube.com/watch?v=4FOvd67sj0k]